FAQ
Find a Guide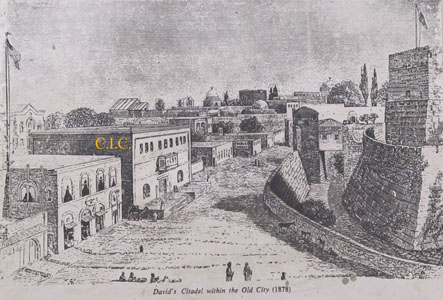 The Christian Information Centre is located in a building which has had a long and interesting history. The original site was sold by a Muslim family to Dr Vahan Gaspar, himself a member of an Armenian family called Mordian. The sale was made possible through an official document of the Ottoman Empire, called a cushan. Once constructed, the street frontage of the building was used as the Royal Post Office of the Austrian Empire - the last director of which was a local Armenian called Artin Torasian. The remainder of the building was occupied by the Gaspar-Mordian family. The father of the family, Agop, acted as an agent for foreigners wishing to buy properties in the Lifta area. For example, it was through him that the property of a Muslim family called Assabi became the present-day Christ Church. 1918 the Post Office closed and was replaced by the Bank of Rome, which remained until 1940. At that point the offices began to be used as a Catholic Club.
In 1948, Dr Gaspar fled to Lebanon and later in 1958, Mr Maroun Tarsha, an employee of the Custody of the Holy Land, arranged for the building to provide lodging for people attached to the GEIN firm. This firm worked on the Mosque of Omar as well as on the shrines of the Custody of the Holy Land at Bethany and Dominus Flevit. Thus at that time the building had quite mixed uses – for accommodation and storage, in addition to being the home of Dr Gaspar's sisters.

In 1964 the Custody of the Holy Land acquired the property from Dr Gaspar and a few years later (in 1971) began to totally renovate it. Fr Claudio Baratto OFM oversaw the work of the Israeli architect, Moshè Lewckovitz. Various changes were made - such as the removal of an embankment; a new off-centre entrance with a stairway; raised arches on the ground-floor; opening up the cistern and basement in order to build bathrooms; adding a ceiling, gallery and stairs to the patio.

The launch of the Christian Information Centre took place in May 1973 and was attended by the Custos of the Holy Land, Emilio Roncari, OFM; the Apostolic Delegate, Pio Laghi and Dr Paul Saul Colbi, Director of the Israeli Government Department which has responsibility for relations with Christians.

A brief historical outline:
 
1859 – 1917: Austrian Imperial Post Office (just 4 days for a letter to Europe!)
1917 – 1947: Bank of Rome
1947 – 1964: Private property of an Armenian Family
1964: Bought by the Franciscan Custody of the Holy Land
1970 – 1971: Reconstruction of the building
1973: Opening of the C.I.C.